Homepage
Invest Clayton
Whether it's business or personal, Clayton County is open for you.
Clayton County is one of the fastest growing counties in Georgia.
With the immense growth comes great opportunities for business and industry. Located 12 miles from downtown Atlanta, Clayton County is a bustling community that is perfectly positioned for its expanding role as a dynamic force in the global marketplace.
News
JONESBORO—Clayton County officials handed out a list of each department's accomplishments for 2019 at the State of the County luncheon March 5.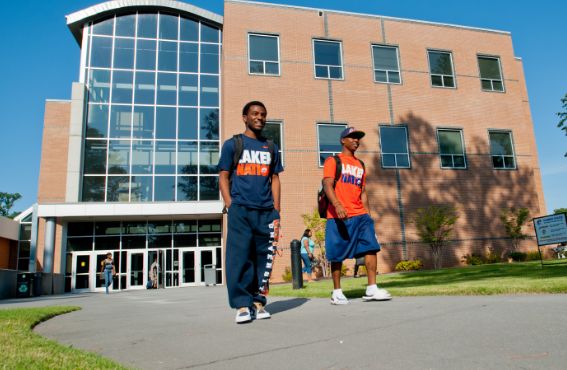 ATLANTA —Governor Brian P. Kemp today announced that Kroger, one of the nation's leading grocery retailers, and Ocado Solutions – a company specializing in cloud, robotics, and IT for retailers – will join forces to build a new Kroger distribution facility in Forest Park, creating 410 jobs and investing $121 million.

If it feels like MARTA is suddenly bursting out all over Atlanta, that feeling isn't wrong. Gwinnett may have voted down the MARTA option in March, but expansions are underway in Clayton County. More MARTA in the city of Atlanta means more access there, and discussions are ongoing in other areas of the metro region about jumping on the MARTA train (or not).

The company, which has been in business in Clayton County since 1947, makes custom counters and mechanical serving technologies. The 172,000-square-foot facility was built in just 10 months, opening in November 2018
Demographics
---
Population: 289,615 (2018)
60% of Clayton's population is of working age (20-65)
Population is 53.3% Female, the highest rate in metro Atlanta
Median Age of 32.4 is the youngest in metro Atlanta
Population grew by 11.6% from 2010 to 2018
Projected Population by 2040: 327,552
More than 21% of residents have a bachelor's degree or higher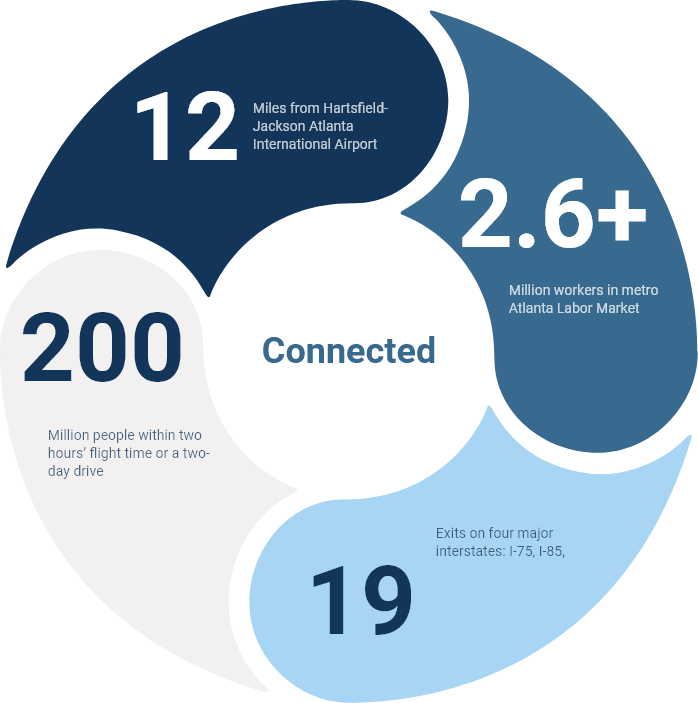 Industry & Investments
---
Clayton County's existing industries understand the benefits of our area and continue to reinvest into our community.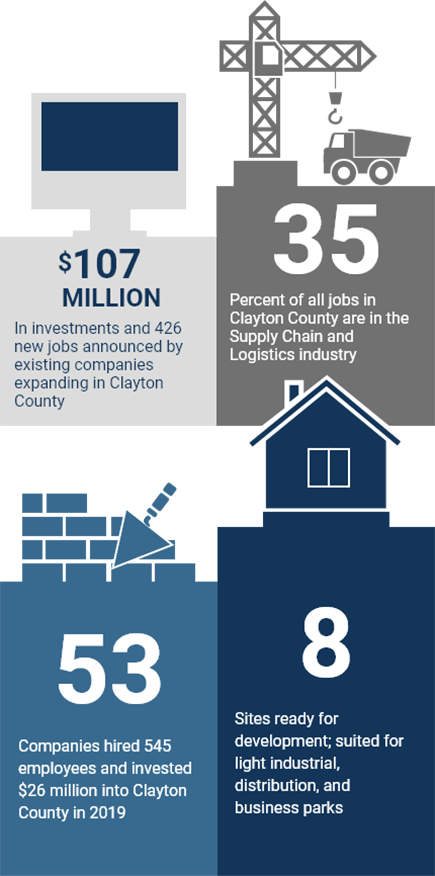 Access Global Markets
With 80 percent of Hartsfield-Jackson International Airport in Clayton County, the area is primed for businesses that need access to the global marketplace. As the busiest airport in the world, Hartsfield-Jackson shuttles people and goods across the nation and around the globe 24-hours a day, 365 days per year. The business world doesn't sleep and neither does our airport.