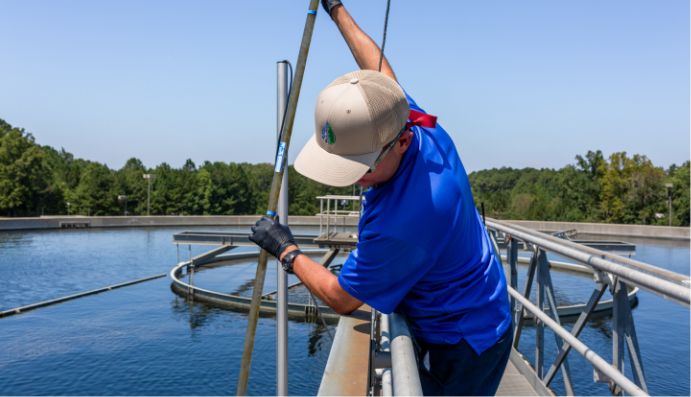 Clayton County enjoys some of the most abundant and efficient utility services in metro Atlanta. From up to 42 million gallons per day (mgd) of clean drinking water to some of the lowest electricity prices in the country, Clayton County's ideal location comes with a wealth of business parks and
in-demand land primed for development.
---
Water & Sewer
The Clayton County Water Authority (CCWA) provides water, sewer, and storm water services to more than a quarter of a million people throughout Clayton County and its six cities through approximately 82,000 customer accounts. CCWA is a "surface water" system, which means its water production cycle begins with the collection of rainfall that hits the surface of the basin and drains into one of the utility's five reservoirs which can hold a cumulative 6.5 billion gallons of water when full. CCWA also operates three award-winning water production facilities that together can treat up to 42 mgd. Overall, CCWA offers excess water capacity of more than 40 mgd.
Electricity & Natural Gas
Electricity and natural gas are supplied by divisions of the Southern Company, Georgia Power and Atlanta Gas Light. Georgia Power is recognized by site selectors as one of the top electric utilities in the country, praised for its diverse and reliable supply, for keeping abreast of infrastructure capabilities (electric, water, sewer, rail, etc.) of all the major sites within its service territories, and for partnering well with state and local economic development entities. Atlanta Gas Light maintains the area's natural gas infrastructure, and businesses may choose from more than a dozen competing natural gas marketers for affordable service.
Broadband Accessibility
Multiple broadband providers serve Clayton County. Massive fiber infrastructure throughout the county provides ready access to most business and commerce sites. Special technology developments, such as University Station in Morrow, capitalize on the data capabilities of the system.
Industrial Parks & Sites
Aeropark East is 86-acres zoned for light industrial with access to I-285 and Hartsfield-Jackson Atlanta International Airport.
Anvil Block Road Site is a 17-acre light industrial site just outside of I-285. The site can accommodate a 225,000 square-foot warehouse facility, capable of serving a wide variety of users.
Clayton Commerce Center is a 797,580 square-foot distribution center with access to I-675.
Gilbert Road Site has up to 22 acres available for light industrial use such as outside storage yard, trailer parking, truck terminal, 100,000 square-foot build-to-suit.
Gillem Logistics Center consists of 1,168 acres that can accommodate 8+ million square feet of e-commerce and distribution facilities.
Southchase Business Park has 44 acres available for development just south of Hartsfield-Jackson Atlanta International Airport.
SouthPark 3200 offers 26 acres zoned heavy industrial. The site is rail-served and close to I-675.
SouthPark 4525 offers a 10-acre tract zoned heavy industrial and close to I-675.
The Best Property Insurance Rates
Thanks to Clayton County Fire and Emergency Services (CCFES), the citizens and businesses of unincorporated Clayton County, along with the cities of Lovejoy, Jonesboro, and Lake City, have access to the lowest insurance rates in the country. In 2016, CCFES received the Insurance Services Office (ISO) rating of 1 and has maintained that perfect rating since. ISO ratings are issued on a scale of 1-10 with 1 being the best level of protection and 10 being no formal protection. Fewer than 2 percent of fire departments in the country and in the state of Georgia hold a rating of 1.
ISO's rating schedule evaluates the fire department, emergency communications, water supply, and community risk reduction. The rating is critical in the insurance industry and ultimately affects the pricing of property insurance.