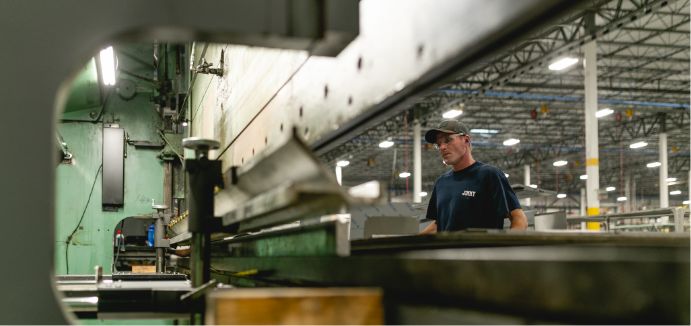 Invest Clayton is proud to share some of the many success stories of our local partners who continue to drive our community forward.
Growth from existing industries in Clayton County is as important as new company recruitment. Local companies that have announced or started expansion projects include Clorox, Cummins Power South, LTI, Fresh Express, Kabobs, and The Castellini Group. These projects will create 426 new jobs and new investment of $107 million. In 2019, 53 Clayton County companies hired 545 additional employees and invested $26 million back into the local economy.
LTI is a family owned and operated business in Jonesboro. Formerly known as Low Temp Industries, LTI is one of the country's leading innovators and manufacturers of custom foodservice equipment and décor. Founded in 1947, LTI opened its new corporate headquarters in Jonesboro in 2019, a 175,000 square-foot facility with manufacturing and office space.

The dedicated employees of Tindall's Georgia Division are helping create extraordinary precast concrete structures, including mixed-use complexes, commercial buildings, parking decks, and manufacturing and correctional facilities. Tindall manufactures a diverse product mix from within the 118,000 square feet of covered production space and 59,000 square feet of uncovered production space in Conley, in northwest Clayton County. These products include double tees, columns, beams, bulb double tees, wall panels, insulated wall panels, cell modules, and stairs, along with custom pieces.

Located in the City of Forest Park in the northeast portion of Clayton County, Gillem Logistics Center has become a hub for large warehousing operations and a job creator for the area. The 1,168-acre master planned industrial park was established on the site of the former Fort Gillem Army Base, which was phased out by the U.S. Government beginning in 2005. The state-of-the-art regional distribution and e-commerce logistics center is fully zoned for industrial use, with new infrastructure that includes a four-lane divided spine road, a Georgia Power substation, and fiber optics within the park. At full capacity, the site can accommodate more than 8 million square feet of industrial space and 1.5 million square feet of mixed-use buildings.
Job Opportunities from Our Partners